Hello everyone! My name is Kim and I am not only your friend but I'm also the store owner of Kim's Tailoring. I am originally from Vietnam, born and raised. Most people know me as Thi (pronounced "T") so you can call me Kim, or Kim Thi, or just Thi.
If you're visiting my website for the first time, welcome, and thank you for visiting.
I relocated to Louisiana because of my American husband, which happens to live here. I met him in 2013. I wanted a better education and future opportunities for my daughter and living in Ho Ching Ming City wasn't the ideal location that offered a path to a better life.
I started my business, at home, in 2019, hoping to help people look and feel better about themselves. I live in a small town near Baton Rouge, Louisiana. Kim's Tailoring was the name I preferred over all my other choices.
In our small town, I wasn't allowed to put a sign in the yard to showcase I was a home-based business because my home is zoned residential and not commercial. There was absolutely no way I could advertise my business location without upsetting my town's ordinance. Needless to say, my home-based business was failing miserably.
In July 2020, I discovered a vacant storefront for rent. It was located alongside a busy business highway I travel going to and from Baton Rouge. This is where I wanted my tailoring and alterations store to live.
Hence, Kim's Tailoring store was born!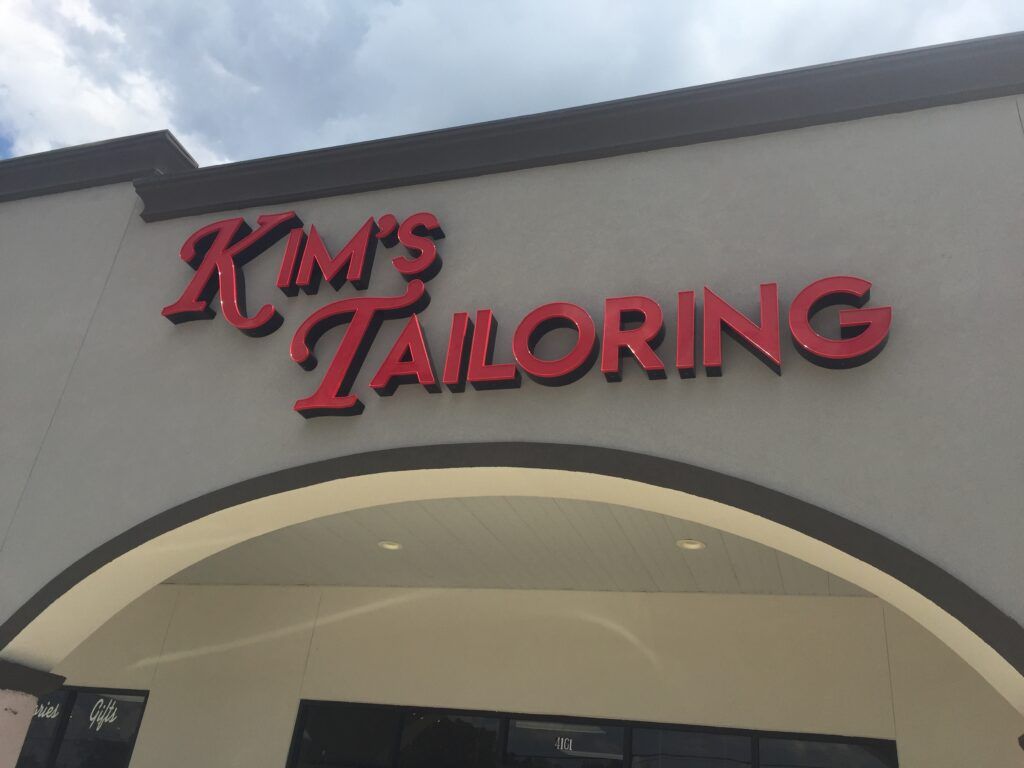 I feel very blessed and I'm so happy serving the great people I am surrounded by in Louisiana. I feel that I can add value to people's lives by providing a service that will help them look better with clothes that fit just right. When your clothes fit well, it makes you feel good. That's what life is all about, looking good and feeling your best.
The best part of having my own business is having control of every aspect of my business.
There are many obstacles we face every day that we must overcome to save ourselves from torment. Creating a business helping people with fashion enables me to serve others in the best way possible. I am most happy when I can make someone feel better by what they wear.
I have several years of experience as a seamstress and operating small to very large embroidery machines. I have an eye for fine detail and know how to maintain appropriate quality control steps.
As with any business the owner has their hands in every part and I love learning how to manage my store.
Since Covid-19 our lives have been changed, possibly forever. While I had been furloughed from my previous employer, I decided to not just sit around and do nothing. I worked with a close associate making masks for doctors and nurses at various hospitals. I know it wasn't much, but it was the least I could do to help serve the people who needed my talents the most.
I was going stir-crazy sitting at home doing nothing.
I didn't just stop there. I also donated my time to various organizations to help people that couldn't help themselves.
Today, I am very fortunate and blessed with good health and wish to continue my support for the community I serve. This is why I opened this business locally but also look forward to serving the nation with this website.
I have a vision to one-day offer classes to teach young people the skills needed to be entrepreneurs and how to be their own boss. Through this website, I will have the means of reaching hundreds of people on a daily basis. This makes having a website so important because a website never sleeps. I can interact with people while I am sleeping.
I hope that I can serve you with all your tailoring needs. No job is too big. If it is important to you, then it is important to me too. I look forward to meeting you!
P.S. If you or someone you know is looking to break the chains that tie you down to a dead-end job then I can help you regain your self-esteem by providing you a way to become your own boss, just like myself. Contact me on my contact page to find out how I can help you with a side-hustle that will give you the freedom to create your own dream job.