I am so excited about getting a new embroidery machine for my store! I'll be replacing my home embroidery machine with a better, upgraded commercial embroidery machine. The new embroidery machine is a ten-needle Ricoma Embroidery Machine. It is scheduled to ship in the second week of March and will be delivered on or about March Twelfth.
My new Ricoma will greatly increase my ability to be more creative as well as productive. Saving time in switching colors will be a great asset, which will save the customer money in the long run.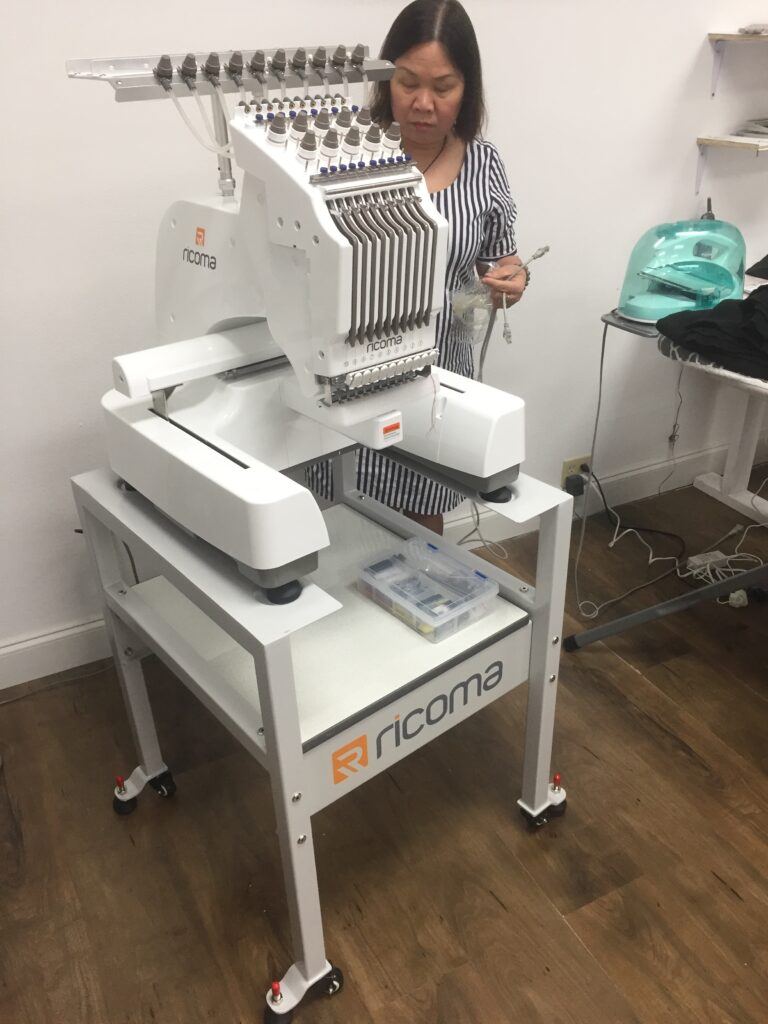 This Ricoma embroidery machine should surpass my older Singer combo machine,  a sewing and embroidery machine, in quality, speed, and custom options. My Singer used to be my go-to embroidery machine when I started my business because it could sew as well as embroidery. Now, it has changed its status and has been decommissioned to just sewing.
I am not limited anymore!
Let me tell you why this is such a game-changer for me and this store.
I had started a part-time sewing/embroidery business at home over a year ago. Since I had experience in operating commercial embroidery machines with multi-heads and multi-needles before, going into business for myself seemed like the next step.
I bought the best machine that I could afford which could do both duties for me, sew and embroidery. I used it for everything. I used this machine to do all the gifts, I made for my relatives.
After we married every time my husband and I traveled to meet one of my husband's relatives I would find out their names beforehand. I would buy a towel for each of them and embroidery their name or initials on each one.
Soon, my husband's family was all so happy that I was a part of the family and were so thrilled with this personal gift I made them. I think they were pleasantly surprised for sure.
As nice a machine as this Singer machine was,  it wasn't built to hold up to the demand that a commercial machine must face on a daily basis. It wasn't long before I had to abandon this machine for embroidering and let it be used for just sewing only.  I had to find a replacement as soon as possible.
Now your typical commercial embroidery machines are not cheap.  They have multiple needles, various sized models at different rated stitches per minute. There are machines with one head up to twelve heads, from small to large.  There are also multiple attachments that can be added. Just as an example, the price range for a one-head, four-needle, Brother Embroidery machine starts around $4999.
I knew I couldn't afford a new commercial machine, with cash. I am operating my new store on a shoe-string budget. My options were very limited, to say the least. I didn't have the luxury of unlimited cash for upgrading equipment nor did I cherish the idea of borrowing from the bank.
My husband started shopping for me online at various websites, like eBay, Alibaba, Craigslist, etc. just to see what was available and at what price range. My husband made an offer on a used ten-needle Happy Embroidery machine, on eBay. Happy machines are built in Japan and are a really good quality machine. Buying from eBay was going to take cash, something we were a little short of. It was also going to be a used machine. No warranty, buy as is, where is.
Even though this Happy machine was listed at a really good price, it was still out of our price range.
Then like out of the blue the stars lined up and there was this tiny little ad my husband noticed online: Presidents Day Sale, Buy a Ricoma Embroidery machine for as little as $130.00 per month. Wow! I think my store could afford that investment. I investigated this ten-needle, medium-sized machine. It is the perfect sized machine for a home business wanting to expand its business to become a professional embroidery manufacturer.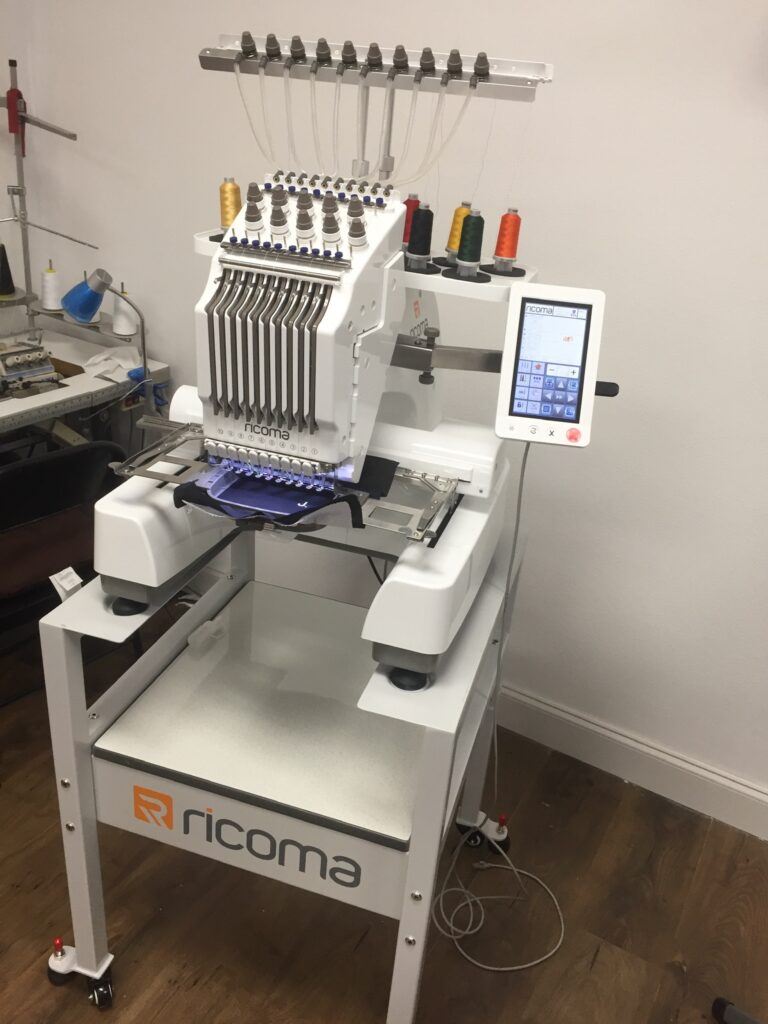 It has most of the accessories that I would need for my business, like a cap-hoop attachment, an on-board computer, software for designing, thread, bobbins, and needles.
Just for grins, my husband applied to the advertisement just to see if this company found my husband worthy of owning a Ricoma embroidery machine. My husband was blown away when this company told him he was accepted as a new recipient of this embroidery machine. It will be built in Florida and the initial delivery date to be shipped on or about March 12.
What are my plans for this machine?
I am counting my blessings and I am surely thankful for my husband, Ricoma, and all the wonderful customers I have come to know from my store.
I have to confess something to you. My husband was skeptical about being approved for such an expensive machine. One week before my husband found out we were getting this new embroidery machine, we had made a drive to Hattiesburg, MS, on a Saturday to look at some embroidery machines at the Sew Select store.
They had a very good selection of small to large, one-needle to multi-needle, multi-brand named sewing and embroidery machines.
There was a ten-needle machine priced at $18,000, and several other single needle models ranging anywhere from $900 to $9000. I already had two embroidery jobs sold if I could find a machine that I could be successful with. We bought a Baby Lock Embroidery machine while we were there.
I couldn't wait to get this machine set up in my store to start embroidering.  It is a computerized embroidery machine where you can use a flash drive to download a digitized file of the embroidery design or use one that is already loaded on the machine. It also has several fonts already installed making monogramming a cinch!
Since I already have several years experience operating an embroidery machine, all machines are a little different, so I only have a tiny learning curve before I'll  as good as anyone around!
I already have a software program that I use to design any creation I can dream of. It will digitize the design to download to a flash drive to upload into any machine that has a flash drive connection.
The best part about having two new embroidery machines is I can dedicate one of them, the Baby Lock to just monogramming, and the Ricoma for embroidering only. Isn't this a great country we are living in?
So I'm inviting everyone to come to my store and see for themselves. My husband wants me to have a two-for-one sale on embroidery designs as an incentive for getting new customers. I think that is a great idea.  I wish to extend my gratitude to all my customers: Buy one embroidery design, get the second of equal or lesser value free, while the sale lasts!
Remember, my store is located in Port Allen, LA, just two miles south of I10 West on LA 1, at 4161 LA-1 South, zip 70767. My telephone number is 225-256-7003.
Please come to the store to see what I can do for you. I make my own dresses and I can do the same for you too!
See what we can do for you by visiting our Embroidery page.
To see some examples of what we have done for other customers, go check out the Monograms Page.
We look forward to serving you!