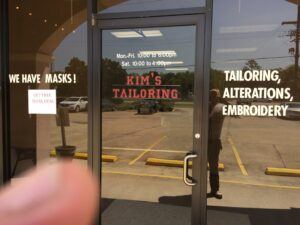 The time has come for our Grand Opening on August First! I am so excited I could hardly sleep. We have been working so hard trying to take an empty store and develop it into a place that can provide miracles for some people and repairs for others.
The name of my store is Kim's Tailoring, which I am the owner/manager of my store. My name is Kim and I am inviting you to visit anytime. I do all types of Tailoring, Alterations, some basic embroidery design, Monograms, and other specialized sewing like custom draperies, etc.
So without further ado,
It is my pleasure to give you a 25 cent tour of my new store! The picture above is what my store looks like from the outside, looking in. It is still being updated almost daily, so don't be surprised if you don't recognize my store from the picture above.
As you enter my store the first thing you see is a counter to the left and a gorgeous large fitting room to the right.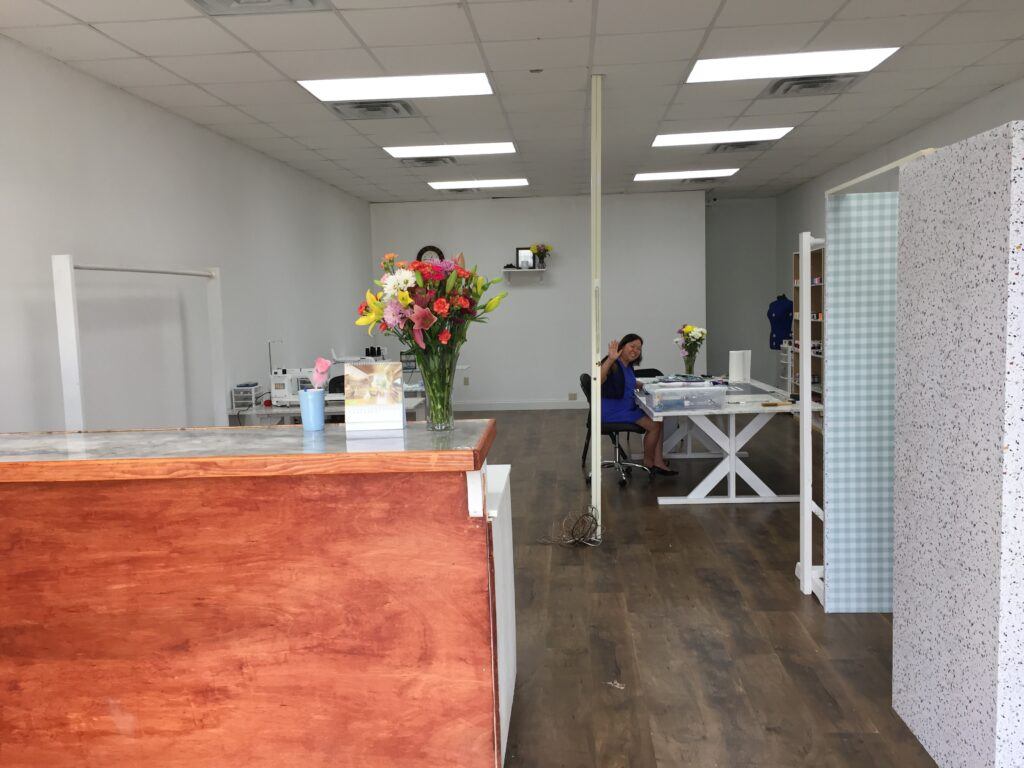 My husband built this counter in the store. He also installed the marble-look Epoxy countertop, which I think is exquisite and provides proof of his carpenters' skills. PS. I'm glad he didn't charge me very much. LOL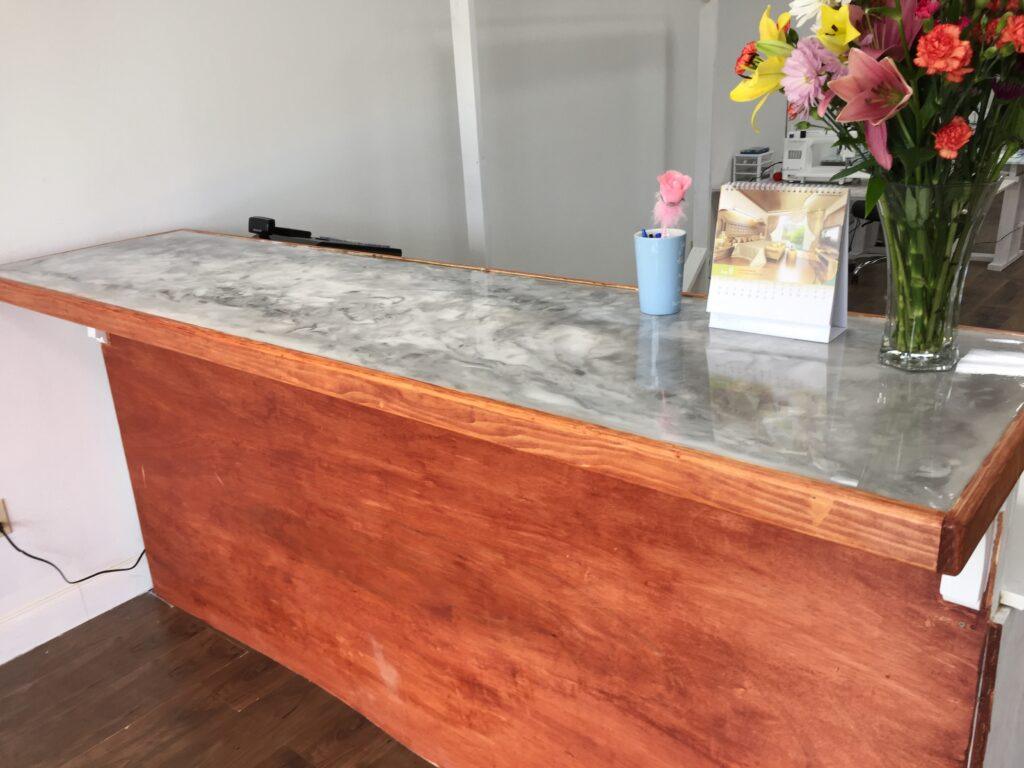 The fitting room is a 6 x 8 room with mirrors and a private changing stall.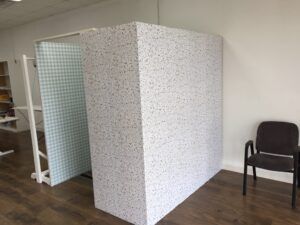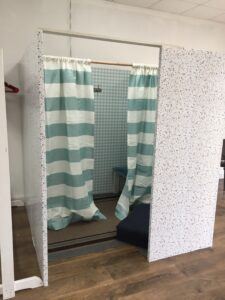 My store is large enough to provide plenty of room for four sewing machines, an embroidery machine, an ironing platform, and clothes racks.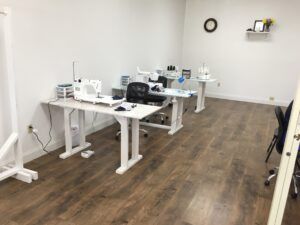 I'm still waiting for a new machine to be delivered. The items you see pictured above are from my home to start my business.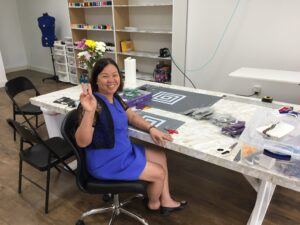 This is me, Kim Thi, sitting at my large work table. My ironing platform (board) is up against the wall.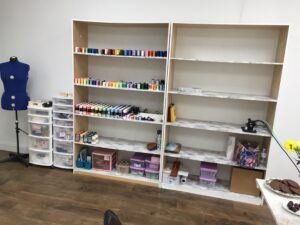 Not pictured are the two rooms behind the wall. One of them is my lunchroom and the other will be a private office.
There is also a large closet and bathroom.  I have a total of 1200 square feet of store.
We are located almost two miles south of Interstate 10 on highway LA-1, in a strip mall (on the east side of the highway). It is designated as in Port Allen, however, we are closer to Brusly, LA in West Baton Rouge Parish.
Just so you know why I am so happy the way my store turned out, let me show some pictures of what my store looked like when I moved in.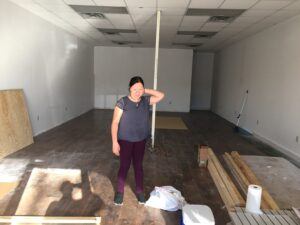 That is me in my work clothes as we were given the keys from the landlord. I want to express my many thanks to the landlord for allowing us the time to convert this empty store into the store of my dreams.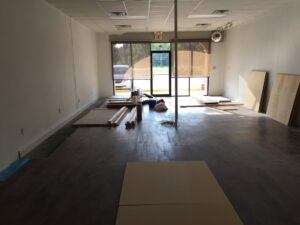 As you can see we had our duties cut out for us. We were very fortunate that the last vendor of this store had laid laminate wood flooring and left extra planks for us to finish the store with laminate wood planks wall to wall. as you see.
I'm counting my blessing.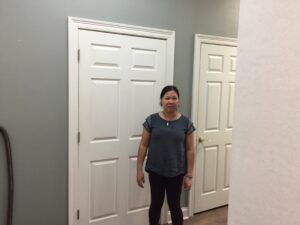 This is a dream come true for me and my family. This is my opportunity to give back to the people that have accepted me as an equal.
As I promised, I'm giving away free masks, one per customer, as a thank you for visiting my store. I have two sizes. Adult and children sizes. I plan on making some children masks in their individual school colors so that masks can match their school uniforms.
I have adult and children sized masks so for my Grand Opening week, I'm giving them away for free, one per customer, while supplies last.
After my grand opening Masks will be set at an affordable price, so don't worry if you missed my grand opening. (hint: I'm selling my masks for $3.00 each).
I have been making masks in two sizes for children and also making them in their own school colors, so when they return to school they will have masks that match their school uniforms!
If you wish to request a color that I presently haven't made yet you can submit your request on my contact form and I'll be happy to make them special, just for you.
I look forward to serving you! I